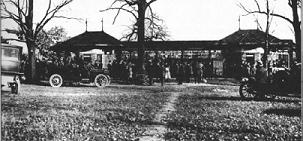 Entrance to Ohio Field, 1909
Ohio & University Field


University Field built in 1898
Renamed Ohio Field in 1908
sat as many as 21000 fans
Located West of High Street and south of Woodruff Avenue(the road that turns into Woody Hayes Drive)
Harley's Rock now sits at site of Ohio Field; it reads "Site of Ohio Field(1903-21), where Charles W. "Chic" Harley, All-American halfback in 1916-17-19, performed those feats that made him an Ohio State football legend and sparked the public enthusiasm which led to the construction of Ohio Stadium."
immortalized in the lyrics of "Buckeye Battle Cry"("Ohio Field will hear again the Buckeye Battle Cry")
first game 10/1/1898 v. Heidelburg(W, 17-0)
final game 11/19/1921 v. Illinois(L, 0-7)
University Field after the turn of the century(OSU Armory visible in background)
Action at Ohio Field in 1916, when Chic Harley starred for Ohio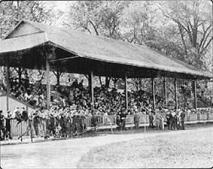 Ohio Field grandstand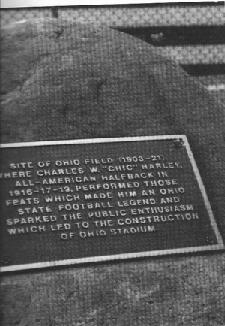 Harley's Rock
OSU Athletic Park


Served as home of the Buckeyes from 1892-1897

West of Neil Avenue and Dormitory on South Campus

drew as many as 4000 fans

in 1897, Jack Park claims that the Buckeyes played at least a couple home games at the stadium of the Columbus minor league baseball team. I do not know the name of this stadium or which games were played there. For the purposes of this website, all 1897 home games are assumed to have been played at the Athletic Park.

first game 10/29/1892 v. Marietta(W, 80-0)

final game 11/25/1897 v. Ohio Wesylean(L, 0-6)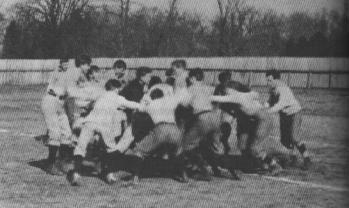 The Buckeyes practice at the Athletic Park, 1892
Recreation Park


located on south side of Columbus

on the corner of South High and Whittier Streets

first home of OSU football(1890 and 1891)

first game 11/1/1890 v. Wooster(L, 0-64)

final game 11/28/1891 v. Denison(W, 8-4)

OSU record just 1-3 at Recreation Park


The Buckeyes play Denison in their final game(and only win) at Recreation Park