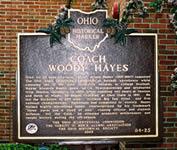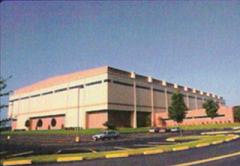 The Woody Hayes Athletic Center
The Woody Hayes Athletic Center was dedicated in November 1987. It serves as the training facility for OSU football and features a full-sized indoor artificial turf field, a weight room, an atrium with trophies from OSU history, and meeting rooms. There is also a street running across the Olentangy River and by Ohio Stadium and St. John Arena named Woody Hayes Drive.
On April 23, 2004, an Ohio historical marker was installed for Woody Hayes outside of the Woody Hayes Athletic Center. A representative of the Ohio Bicentennial society and Coach Tressel unveiled the monument. An excerpt from Coach Tressel's comments:
"In my father's last week of his life, Coach Hayes drove to Cleveland and sat with him on his deathbed. That was the kind of guy Woody Hayes was. We all know the impact Coah Hayes had in the game of football and for football in this state. It is a special day for us on our campus to preserve history out in front of a building that is awfully special to us. We know it is the responsibility we have to uphold the tradition of the people who came before us and to try to create more history."
The text of the marker is as follows:
Coach Woody Hayes
Over his 28-year career, Woody Hayes (1913-1987) cemented The Ohio State University's tradition of football excellence while amassing one of the most impressive records in college football. Wayne Woodrow Hayes grew up in Newcomerstown and graduated from Denison University in 1935; after coaching two years at Denison and three at Miami, he began coaching at Ohio State in 1951. He led the Buckeyes to 205 wins, thirteen Big Ten titles, and five national championships. Passionate and commited to victory, Hayes fielded highly disciplined teams, charachterized by his trademark "three yards and a cloud of dust" running offense and staunch defense. Off the field, he stressed academic achievement and taught history during the off-season.
Coach Tressel helps unveil the historical marker
On September 10, 2005, during halftime of the Texas game, a banner in honor of Coach Hayes was unveiled at Ohio Stadium, similar to those honoring the players whose numbers have been retired. However, the retired numbers are in the South end of the stadium, while the Coach Hayes marker is along the southeast part of the stadium. The sign features a scarlet Block O against a black background (as Woody's trademark hat did), his name, "Ohio State Coach 1951-1978" and "13 Big Ten Titles" "5 National Titles".

In 1982, the portion of West Woodruff Avenue running past Ohio Stadium was renamed "Woody Hayes Drive".