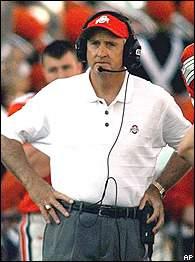 born July 2, 1937 in Powell, Tennesee
graduated from Iowa State in 1962
coach at Tulsa 1977-84
coach at Arizona State 1985-1987
coached at TOSU from 1988-2000
"Ohio State has the image out there nationally, of course. Great players, great tradition, great talent. You can win it all. I came here fully expecting that we were going to win the Big Ten and have a shot, at least, at the national championship."
"The difference here, in my opinion, is there's two, four, five percent of the people who are very, very vocal, very negative, and anti-anything. They were anti-Woody, they were anti-Earle, they were anti-Fred Taylor, they were anti-Eldon Miller."
"The difference between Columbus, Ohio, and any place else is, here, there's Ohio State football, period...It's Ohio State football, it's Ohio State football, it's Ohio State football."
"The way I look at this job, it's not my football team. It's our football team, it's your football team."
Comments
No OSU coach draws quite as extreme of a reaction as John Cooper. Many people despised Cooper for many years and wanted him out. I have to admit that I was one of them. A 2-10-1 record against scum is simply unacceptable. However, I don't have anything personally against the man. He is a good man and a good coach. OSU deserves a great coach.
IMO, Cooper never truly understood the Ohio State tradition. He never fully understood the gravity of the scum game, and I think that in part contributed to his problems against them, coupled with the tension that grew on him year after year to win that game. But I can't really hold that against him. He is not from Ohio. All of the truly great Buckeye coaches: Brown, Widdoes, Hayes, Tressel, have had strong Ohio ties. Cooper had none. I would have never given him the job. Once he got the job, he was a fabulous recruiter, and a fabulous coach against everyone except scum. He gets some grief for his bowl record too, but when he was in a major bowl, he was 2-1. In 1996 and 1998, with potential national championship implications still on the line, Cooper won the Rose and Sugar Bowls. In 1996 OSU deserved a share of the title and if they would have gotten it I can't help but think that the end result for Cooper would have been a lot different then what it was. But if he would have just beaten scum in 96 and scum st in 98...alas, that game is silly. Maybe if Woody would have beaten scum in 69, and UCLA in 75, and if Bruce would have won the Rose Bowl in 79...it's all in the past now. John Cooper is gone, and rightfully so, but I have nothing but respect for the man and he has truly handled himself with class since his dismissal. He is a good man and is worthy to be called an Ohio State football coach.