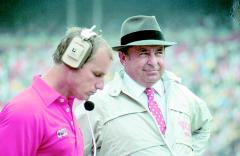 born in Pittsburgh on March 8, 1931
moved to Cumberland, Maryland at age 10
played halfback
recruited to OSU by Coach Fesler
injured as freshman in 1950
injury in 1951 ended career; Coach Hayes persuaded him to finish his education at OSU
graduated in 1953 from OSU
student assistant at OSU
assistant at Mansfield HS, 1953-56
head coach at Salem HS(28-9), 1956-59
head coach at Sandusky HS(34-3-3), 1960-63
head coach at Massilon(20-0), 1964-65
secondary coach at OSU, 1966-67
offensive line coach at OSU, 1968-1971
head coach at University of Tampa, 1972
head coach at Iowa State, 1973-78
head coach at Ohio State, 1979-87
head coach at Northern Iowa, 1988
head coach at Colorado State, 1989-1992
head coach of Cleveland Thunderbolts(AFL), 1994
head coach of St. Louis Stampede(AFL), 1995-96
head coach of Iowa Barnstormers(AFL), 2001
named head coach of Columbus Destroyers(AFL) on September 25, 2003--team begins play in 2004 after moving from Buffalo
resigned as Destroyers coach after 2004 season; remains in front office; replaced by former student Chris Spielman
"Hey, what are you doing? You're not going to Michigan, you're going to Ohio State!"--to Kirk Herbstreit in the Michigan locker room after 1987 game
"Now Colorado is a pretty liberal place, and football is a tough game. The old traditional in-your-face stule of coaching had clased with the more liberal hands-off, let-everybody-do-his-own-thing attitude."
"There's never more pressure on any coach in college football than on an OSU coach before the Michigan game. And that hasn't changed. It was an unspoken creed. And some things should never change."
"That's why you're seeing more coaches go into the cattle buisness--because cattle don't have alumni."
"The only people who don't have any problems are in cemetaries."