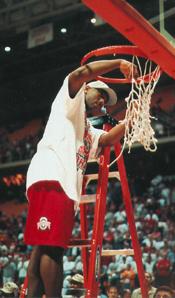 Scoonie Penn cuts down the net as the Bucks win the South Regional in 1999
This page provides NCAA Tournament brackets for each year Ohio State has participated in the tournament. They include scores for the Buckeye games only. For complete tournament brackets(and the sources used to compile this), visit these websites:
Using this data, we can look at some facts about the Bucks' tournament appearances. Some of these categories are not particularly relevant over all years. For instance, by making the tourney at all in 1939, OSU was in the Elite 8. And there were no seedings until some time in the 1970s, and no designated regions until the 1950s, so not all the numbers in those categories will add up. Also, all this is based on what actually happened in the tournament, not what has been changed later.
Region
Mideast-5(1960,1961,1962,1968,1971)
Midwest-4(1991,2006,2009,2010)
East-3(1982,1983,2001)
West-3(1980,1990,2002)
Southeast-3(1985,1987,1992)
South-3(1999,2000,2007)
Seeding
#1-3(1991,1992,2007(#3))
#2-2(2006,2010)
#3-2(1983,2000)
#4-4(1980,1985,1999,2002)
#5-1(2001)
#8-3(1982,1990,2009)
#9-1(1987)
Advancement
Sweet 16-16(1939,1944,1945,1946,1950,1960,1961,1962,1968,1971,1980,1983,1991,1992,1999,2007,2010)
Elite 8-13(1939,1944,1945,1946,1950,1960,1961,1962,1968,1971,1992,1999,2007)
Final 4-10(1939,1944,1945,1946,1960,1961,1962,1968,1999,2007)
Championship Game-5(1939,1960,1961,1962,2007)
National Championship-1(1960)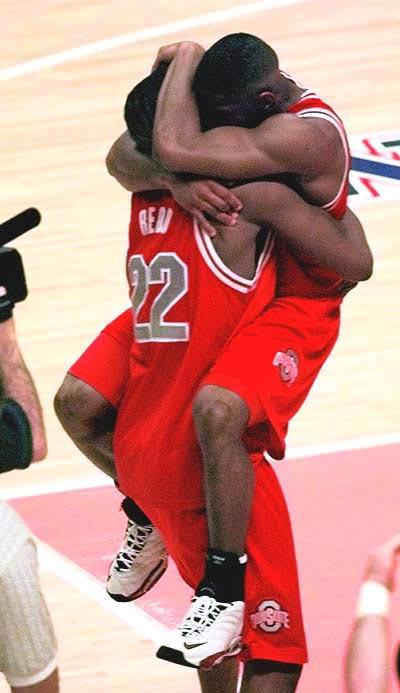 Scoonie Penn and Michael Redd celebrate going to the 1999 Final Four