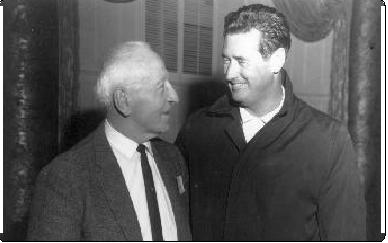 Marty Karow with Ted Williams
I have compiled a list of the 50 Buckeyes who played in the majors. In addition, I recently found Scott Galuska's outstanding site, Buckeyes in Professional Sports, where he lists all ex-OSU athletes in MLB, NFL, NBA, and NHL. It is a great reference for Buckeye fans of all sports, and has also helped refine my list:
Recently, the SABR Colleagite Committee has released their data on ML players' college careers. The Ohio State data is here:
Their list seems to go on the basis of players who actually played for the Buckeyes. But it did provide 4 new Buckeyes for my list and also valuable information on player's OSU career spans which was not available on the letterman's list and has now been integrated into my list.
I wanted everyone who attended OSU, not just guys who played baseball there. Anyway, here is the list. The years in italics are years lettered at OSU. The other parentheses show the years of their ML career and their primary position:


Steve Arlin(1965-66)(P,1969-74)

Barry Bonnell(1972-74)(OF,1977-86)

Chuck Brinkman(1964-66)(C,1969-74)

Dave Burba(1985-87)(P,1990-2004)

Galen Cisco(1955-57)(P,1961-69)

Rollin Cook(1909-15)(P,1915)

Pat Crawford(2B,1929-34)

John Dagenhard(1936-38)(P,1943)

Doc Daugherty(PH,1951)

Mark Dempsey(1977-80)(P,1982)

Mike Durant(1989-91)(C,1996)

Johnny Edwards(1958)(C,1961-74)

Jim Geddes(1969-70)(P,1972-73)

Stan Goletz(1937-41)(PH,1941)

Don Grate(1944-45)(P,1945-56)

Frank Howard(1956-57)(OF,1958-73)

Newt Hunter(1B,1911)

Don Hurst(1924)(1B,1928-34)

Vic Janowicz(1949)(C,1953-54)

Marty Karow(1925-27)(SS,1927)

Hal Kime(1920)(P,1920)

Ollie Klee(1923-25)(OF,1925)

Scott Klingenbeck(1990-92)(P,1994-98)

Scott Lewis(2002-04)(P,2008-09)

Tubby McGee(1920)(1B,1925)

Pat McNulty(1920-21)(OF,1922-27)

Jake Miller(OF,1922)

Russ Miller(1923-25)(P,1927-28)

Rusty Nagelson(1964-66)(OF,1968-70)

Josh Newman(2001-04)(P,2007-08)

Ron Nischwitz(1957-58)(P,1961-65)

Effie Norton(1892-1896)(P,1896-97)

Stan Partenheimer(P,1944-45)

Pinky Pittinger(1918-20)(SS,1921-29)

Pep Rambert(P,1939-40)

Arch Reilly(1910-17)(3B,1917)

Doc Reisling(P, 1904-10)

Rick Renick(1964)(3B,1968-72)

Moe Savransky(1948-53)(P,1954)

Fred Scherman(1963)(P,1969-76)

Ralph Shafer(OF,1914)

Bill Sharp(1970-71)(OF,1973-76)

Duke Simpson(1948-51)(P,1953)

Jud Smith(1888-1892)(OF,1893-1901)

Joe Sparma(1962-63)(P,1964-70)

George Spencer(1947)(P,1950-60)

Neb Stewart(1931-38)(OF,1940)

Johnny Stuart(1920-22)(P,1922-25)

Nick Swisher(2000-02)(OF,2004-09)

Arlie Tarbert(1925-27)(OF,1927-28)

Fred Taylor(1947-50)(1B,1950-52)

Jim Waugh(P,1952-53)

Lefty Webb(P,1910)

Ollie Welf(1908-16)(PR,1916)

Bill Wertz(1986-89)(P,1993-94)

Hoge Workman(1923-24)(P,1924)

Rasty Wright(1915-17)(P,1917-23)
Jim Frey, who managed the Royals from 1980-1982 and the Cubs from 1984-1986, but never reached the majors as a player, attended Ohio State. So did current MLB umpire Tim Timmons. Just a few random notes on the guys who are more notable for other contributions to OSU sports. Fred Taylor became basketball coach and led us to a national title in 1960; Vic Janowicz was the 1950 Heisman trophy winner; Galen Cisco was a starting fullback on the 1957 national champs and also a successful pitching coach.
William Bulger wrote to tell me that Frank Howard was an All-Big Ten forward, and that Joe Sparma also played football for Ohio State. This led me to look for more football players among these guys. Sparma was a QB, Hoge Workman was an All-American QB, Marty Karow was a fullback, Ollie Klee was a QB, George Spencer played football but I'm not sure what position, and the same for Johnny Stuart. Don Grate and Arlie Tarbert both played basketball at Ohio State.
If you have any additions or corrections, please send them to bcheipp@yahoo.com.